How to use Flattirl.com
How do I get my thing URL or number?
First, you must have a Flattr account and create a thing. Register if this is not the case.
Then, log into Flattr. Once logged, you are presented your Dashboard. Now look at your things at the bottom of the page. If you cannot find the thing you are looking for, click the View all things link.

Click on the thing you target. A dedicated page is now displayed. You thing's URL is the address in the address bar of your browser. For example, https://flattr.com/thing/47413/Rotate-PDF-documents-online. You just have to copy/paste it. Your thing's number is the number which appears in the middle of your thing's URL. For example, 47413.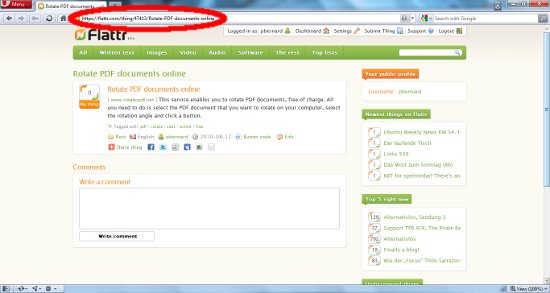 I want to create a "real" thing, but Flattl asks for a URL. What can I do?
First, look for an obvious URL. You want to promote your next concert. Did you set up a page on MySpace to announce it? If so, the address of this page is an ideal candidate.
What if you do not have such easy choice at hand? You can use a more general page, like the homepage of you personal web site. You can also consider creating a dedicated page.
"In Real Life". Wikipedia gives several definitions. The meaning to remember here is "not on the Internet".
About Flattirl.com
So Flattirl is in the "alpha" stage?
Yes. Flattirl is not even in beta because the current site does not pretend to look final. Many features and sections are missing. The idea was to release Flattirl as soon as it is working and useful. I think this is the case.
Who is behind Flattirl.com?
An individual. My name is Philippe Bernard. I live in Paris, France. I work at Trusted Logic, as the Test Manager of the Smart Card Business Unit. I am not related to Flattr. I just discovered it this summer and found it reeeaaaally cool.
What are the future plans?
A blog, a forum, a mobile application, a better design... and I also wait for feedback from the community. Please contact me!